"I wanted a comprehensive book about emotions that I could recommend to clients. Not finding what I was looking for, I decided to write it myself. My book, Yell and Shout, Cry and Pout, began as a book for adults and morphed into an early reader."
Peggy Kruger Tietz, Ph.D. - Author
Developing emotional literacy in early childhood promotes dialogue, problem solving and social success. Being in touch with emotions make adolescents smart and can reduce frustration by allowing for better communication. But parents don't teach their children about feelings and emotions in the same way that they teach other basic concepts. Yell and Shout, Cry and Pout guides parents in teaching their kids to identify and talk about their feelings and grow together a shared emotional vocabulary.
Families reading together Yell and Shout, Cry and Pout, and following along with illustrations by Rebecca Layton, learn to:
Identify and understand eight basic types of emotions: anger, fear, shame, sadness, happiness, love, disgust and surprise;
Know each emotion's purpose;
Recognize common situations that trigger each emotion.
When you teach kids about their feelings and emotions, they can begin to understand themselves better. Being able to name their emotions and communicate their needs will help them find ways to deal with everyday situations more skillfully. Sharing emotions will lead to less frustration, more dialogue and increased problem solving. Children who manage emotions do better in school, with peers and later in life.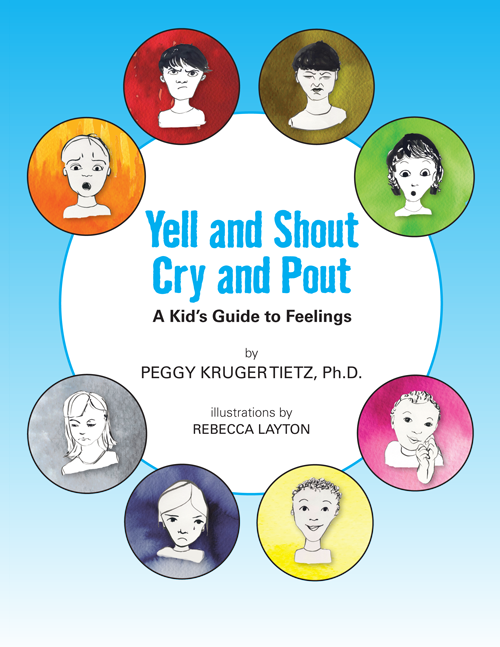 Peer Reviews
"Peggy Kruger Tietz has really captured what it takes to help children understand their internal lives. With beautiful illustrations and understandable examples, she helps take shame and discomfort out of the equation. This book is a wonderful guide for parents and therapists alike. I recommend it highly."
—Daniel Gottlieb Ph.D., Host of "Voices in the Family" Philadelphia's NPR affiliate and author of "Letters to Sam" and "The Wisdom of Sam"
---
"Give a child you love the gift of emotional intelligence—it'll make her life easier and more rewarding every day! As a parent and parenting communicator, it's clear to see how often a child can avoid conflict and enrich relationships by simple learning how to identify her emotions and then guide her feelings more productively. This engaging guide is an excellent tool to share early-on to grow lifetime skills."
—Helen Cordes, editor of New Moon Girls magazine
---
"Our 8-year-old son read the book when it arrived and then proceeded to talk with us about feelings at dinner! We all reviewed each one, discussed how they each differed, and then started using some of the phrasing in the book in subsequent days. The book provided great language and graphics. It's a winner for anyone with children!"
—D.M.
---
"This book is an absolute "must" for parents who want their children to be able to identify and feel OK about having their feelings. It provides clear language for both the child and the parent to use so they can share their feelings in words and feel understood rather than shamed."
—Dr. Susan Cassano
---
"At last, a useful guide to explaining and exploring the wild world of children and their emotions. This book has already steadfastly guided us through a number of situations where we've tried our best to understand our children's emotions. I cannot recommend it enough. Thank you, Peggy Kruger Tietz, from our entire family."
—Amy Plant
---
"I just ordered two copies of this book. One for me, to read to my daughter and one for my sister who has an 8 year old, and a 3 year old. The author of this book is SO great! It is very difficult as a parent these days! The world is full of incredible stimulation, and our children don't know how to cope with this in a healthy way. This book helps to teach this, and it is amazing! Get you one now! This is my new go to gift for all my Mommy friends!!!"
—Mary Brooks
---
"I wish I had had this book to help me make sense out of my emotions when I was growing up. I love to see when and author shines sunshine on a topic that is too often kept in the shadows. The writing invites family communication and connection."
—Karen Kreps
---
"I just read Dr. Tietz's book and found it to offer a clear and compassionate way for parents to help their children to label and to understand their emotions. It is simple enough for children to read themselves, and the illustrations are appealing and well placed. This book would also serve as an excellent tool for psychotherapist and teachers, and I highly recommend it."
—Dr. Terri Fechnay
---
"So many children suppress their feelings and don't know how to deal with them. This book addresses feelings in a way a child can easily understand. As an adult with a 5 young grandchildren I find it very helpful. I wish a book like this had been around during my young years."
—Barbara Andrea
---
"This book treats children as important human beings. As an ordained minister, I have often had to council adults to pay attention to what is going on inside of children in times of grief and emotionally challenging changes and transitions. This book is a resource that will help children and, importantly, the important adults in their lives to help them! I have a spare copy on y shelf for when it will be needed."
—Preston K. Mears, Jr.
---
"I gave my 8.5 year old granddaughter this book and she read it immediately and told me it was interesting. I asked her why and she said because it talked about feelings she had, and she liked it. I wish I had had this book when my children were little. It would have been helpful for all of us."
—M.P.
---
"I just purchased two copies of this marvelous book, one to have ready to give as a gift and one to keep in my home to read to (or should I say with) the young children in my life. My first experience was with seven year old Ella. We read together, laughed, talked about each of our emotions and shared times when we were happy, sad, scared, surprised. What a wonderful bonding experience!"
—E.S.
---
"A wonderful and delightful tool for parents and the inner child who needs re-parenting. This is a book that has helped me identify and understand my grown-up feelings. I was raised by parents to be "seen and not heard", (they were raised to "sit down and shut up"), so not a lot of experience with emotional knowledge. "Acting as if", and "rising above them" were the most likely tools offered. This little book helps jump start a generational lack of experience and gives hope for breaking that cycle. Thank you!"
—Pam Higgins
---
"Yell and Shout, Cry and Pout is a fun book to read! Written for children, I myself found it quite engaging. Peggy has written a book that I wish had been a part of my early life. Cleverly written, the ideas are fresh, the concepts are rooted in current science, the illustrations and color gracefully enhance the message. From beginning to end there is a flow of poetic language creating a rhythm that carried me though the chapters with a balance of fun, lightness and depth of understanding of both the purpose of feelings and their natural place in all our lives.
The hidden gem in this book though is the implicit and creative way she offers a context for adults and children to engage in a conversation-both ways—about feelings. This is the book's power, a genuine learning environment-not forced nor preachy. Surprisingly, I found myself going beyond the beautifully written and illustrated creation and into myself answering the two simple yet elegant questions posed within each chapter:
1. What do you do when you are ....( feeling one of the eight feelings)?
2. What might make YOU ... ( feel one of these feelings)?
It sure has me pondering how I relate to MY feelings. I have a secret hope that schools might become interested in having classes read Peggy's book together and let informal discussions emerge-a way to build emotional intelligence. Why not?
Don't hesitate to buy this special book-spread the word, so it can be heard. "
—Rich Armington, LCSW
---
"As a licensed social worker, Yell and Shout, Cry and Pout comes in handy when working with children who aren't capable of fully expressing themselves. This book does a great job giving detail behind the feeling and with examples. During my work with families and individuals the knowledge to appropriately express or describe a feeling is lost or was never learned. This is a great book to build up those skills, especially with younger kids. With this book you can empower your children or clients to find their voice. It will teach kids to express themselves in a very healthy way. Parents can then help their child come to a resolution or support them to process through those feelings, allowing the kid to resolve the issue on his/her own. I plan to use this book in my clinical work and will recommend it to all of my family clients. "
—Stephanie Grizzle, L.M.S.W
---
My kindergarten students and I really enjoyed, Yell and Shout, Cry and Pout!
It is nicely organized so that we could do a short lesson on one emotion each day with discussions and reflective writing. The explanations and stories were easy for the kids to understand and to make a personal connection with. The book is an excellent springboard to begin discussions about our feelings. And, the kids had A LOT to say about their feelings!
Some things they said were:
I feel love when...
"...my mommy cuddles me."
"...my parents say 'I love you.' "
I feel disgust when...
"...dogs poop in the same place because they think it's a good spot."
"...my sister threw up on me."
I feel afraid when ...
"...it's dark and the neighbor's dogs bark. They sound like ghost wolves."
"... I watch Scooby-Doo."
I feel sad when...
"...Lilly snickered at me."
"...my toy snake got holes in it."
I feel anger when....
"...my brother doesn't let me pick a show."
"... my sister says my hair is ugly."
The kids really got in touch with their feelings!
—Mari Blake-Dombkowski, Kindergarten Teacher, Austin, Texas